Blade

The Legacy

Core, lvl1

Flash wannabe
| | | | |
| --- | --- | --- | --- |
| Energy    | 2240 | Weapon1    | artillery cannon |
| Metal    | 168 | Range    | 185 |
| Armor    | 680 | Damage/sec    | 75 |
| Buildtime    | 2300 |   |   |
| Maxvelocity    | 2.8 |   |   |
| Turnrate    | 685 |   |   |
| Special    | n/a |   |   |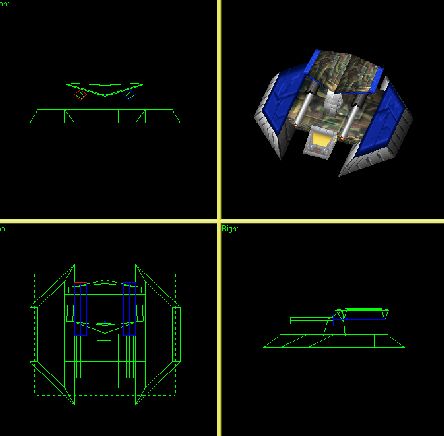 Buildpic: Dizzy, fozzy, mozzy, messy are the main characteristics about this buildpic that beside a degree in confusion and disinformation is also photographed from the wrong angle. The one fully displaying the unit's anorectic sides [1]. The background is however nice [3]. The shadow should be a snap stronger and I forgot to point it out in the very similar Tortoise buildpic. The shading on the unit itself should be much more clear as well since the present layout tell me nothing of the direction of the light [1.5]
Buildpic: 5.5
Model: This model seem to have been one of the unlucky souls that under the latest Pride-festival happened to stand where the Giant Gay Sledgehammer smashed down. The plastic (metallic) surgery has made some progress, but the unit ever since has been flat and wide in all directions. Not that it is bad in any way, it's just that there are many other, much better lauouts for a kinda speedy unit such as this. Where the description of both this unit and the Tortoise is /Anti-grav tank/, the Tortoise does actually look like one while this one is more of a real hovercraft (which isn't really appreciated from the other habitants of the same plant). Even though the turret is too flat, it isn't seen as such inside the game, however it is too wide and that is a flaw that can be seen from almost any angle. The barrels are too far from each other and in my opinion, they would look much better if moved closer together [1]. The texturing is everything but good... Besides the small hint of CD:3D around the tracks and the very normal looking barrels, the unit lacks both correctly tuned textures and a sense of proper texturing (with a special highlight on the turret base). The logo textures have been overabused [1]. The corpse is acceptable, but far from superb. Textures haven't been tuned in. The funky hat (the turret) is gone [1].
Model: 3
Script: Very nice firing recoil, but one thing bothers me in the firing sequence that does really belong to the model. Why are the flares white if the laser is red?
Script: Not counted
Balance: Compared to the Core Instigator, this unit costs 53% more metal, have 4% more armor, 47% higher speed, amphibious talents, 70% more damage/second (on 3% longer range) and 44% better navigation (which is a completely absurd number for any hovering object). This unit would be very nicely balanced compared to the Flash, but in the Core plant, it renders the OTA Instigator useless, and by that breaks one of the initial Rules I made clear to myself. A unit can be obsolete itself, but it isn't aloud to render OTA units obsolete. Overpowered atm, loose some armor. About half of it would be my suggestion.
Balance: 6
My score: An overall ugly unit, however with some highlights on the firing sequence, the very nice sounds and the weapon file add ons:
[DAMAGE]
{
default=15;
Mower=100000; //Burn, Severation, BURN!!!!!!!!!
RAV15=100000; //GOD, YOU'RE UGLY!!!
}
My score: 2