[ Old values within brackets ]
| | | | |
| --- | --- | --- | --- |
| Energy    | 3958 | Weapon1    | VTOL rocket |
| Metal    | 719 | Range    | 535 [ 480 ] |
| Armor    | 1750 | Damage/sec    | 58 [ 32 ] |
| Buildtime    | 12209 |   |   |
| Maxvelocity    | 3.2 |   |   |
| Turnrate    | 156 |   |   |
| Special    | n/a |   |   |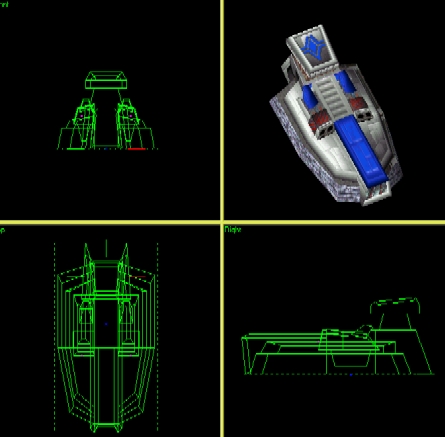 Revision: Read the complete review of the old version here.
Buildpic: PERFECTION ! PURE PERFECTION !
Bildpic: 10 [ 9 ]
Model: A total of 12 faces were cut in this version and it does bump the score a bit, unfortnunately not as much as I'd wanted to bump it. The model itself has been unchanged so the expected ensharpened-hull bump is lacking as well [2.5]. Very nice and improved texturing on this version. The Cavedog 3D is enabled and the logo ammount has been shrunk. The dark arm logo on the top looks very misplaced right now, however, when the res of the ship is lighter [4.5]. The corpse is superb now [1].
Model: 8 [ 5 ]
Script: Unstandard aiming, but still a simple one.
Script: Not counted
Balance: All my requests have been met and therefore I am proud to give away the honorable 10 pound balance model.
Balance: 10
My score: Woh! (Storm makes all those happy sounds and makes a small dance around the keyboard)
My score: 10