| | | | |
| --- | --- | --- | --- |
| Energy | 10000 | Weapon1 | gauss cannon |
| Metal | 1519 | Range | 600 |
| Armor | 3250 | Damage/sec | 113 |
| Buildtime | 19789 | | |
| Speed | 2 | | |
| Turnrate | 192 | | |
| Special | n/a | | |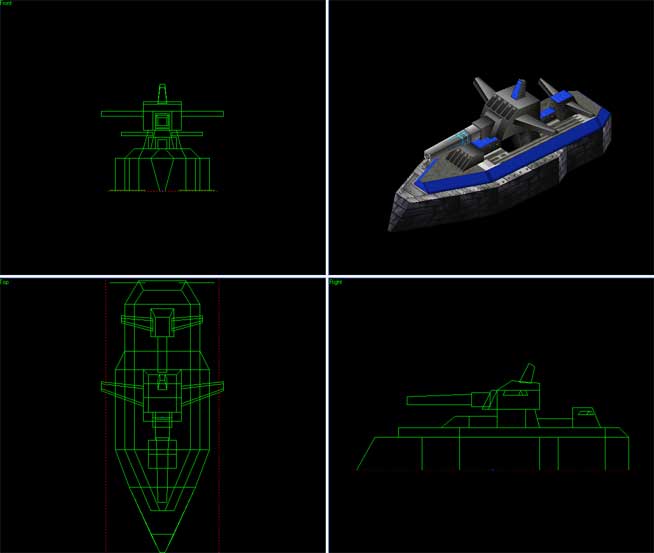 Note: Previous version here.
Buildpic: The buildpic score is mostly the same as the previous version besides the totally too harsh background score, autobumping the buildpic score from 7 to 8.
Buildpic: 8
Model: The model too, is very alike it's previous version, although some minor updating. The actual model is still bothered by those large horned thing behind the turret. It just doesn't fit on such a relatively small model [3.5]. The texturing have been improved and both of the previously mentioned problems seem to have been adressed properly [5]. Corpse [1].
Model: 9.5
Script: Just some standard aiming, nothing even close to somewhat fancy.
Script: Not counted
Balance: The weapon damage/second ratio of this unit has been bumped a lot from the previous version, but not at all as much as I'd hoped for. The fact remains that the Crusader still got a lot more armor and still have a more powerful weapon compared to the costs and therefore wins by default. It also belongs a level lower, got a sonar and is equipped with Depth Charges, which makes it a formidable unit, able to outclass the Tometecure at any given point of the game. To have a chance of survival, the T-Kure must increase the damage/second by a lot more and give the armor rating a well earned bump to at least 4000 (or lower the costs to about 1.2-1.3 K). This unit should in my opinion be capable of shredding a Skeeter/Searcher into pieces with one single shot to earn some dignity and strategic value. It is a great improvement since last time, but it's still owned by Enforcers and underwater metal extractors.
Balance: 3
My score: We're getting there, step by step. Now, I really like the model.
My score: 4